"Evelyn Evelyn"
Produced by Jason Webley and Amanda Palmer.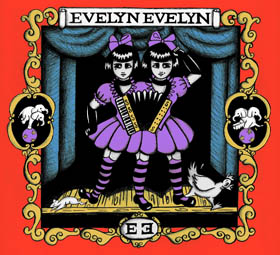 IN STORES - MARCH 30th!
Available on CD and double 10" colored vinyl.

For the past three years Amanda Palmer and I have been working - on and off - on this collection of stories and songs by and about the "Evelyn" twins. We will be touring the project this spring and summer.

***

.UPCOMING RELEASES:
July 2010 - Big Little Dipper Dipper "Hockey Star" Super-EP
T he next in the series of limited edition collaborative EPs with my friends Caitlin Rippey and Oliver Orion. Check out our video.
October 2010 - Jason Webley - "Live at Bear Creek" CD+
A mix of new songs, forgotten songs, covers and a few of the "hits" recorded live in front of a small audiences in one of the most magical recordings studios I've ever encountered.
December 2010 - Jason Webley with Jana Vebrova "Margarin" Super EP
Four songs by the phenomenal Czech song-writer/accordionist Jana Vebrova accompanied by my clumsy English interpretaions of the same songs. Limited to 1,111 copies.
Find out about new releases by signing up here.
-jason