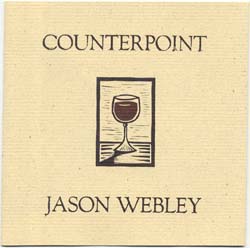 TEMPORILY OUT OF PRINT. SORRY!
It may be a while before I reprint this, but you can purchase a digital copy from Bandcamp.
Counterpoint
Jason Webley
2002 - 12 song CD
"A marvelous recording that will stand as one of the best Seattle CDs of the year."
- The Seattle Times.

Richly orchestrated and stylistically diverse, 'Counterpoint' is a seventy minute meditation on parallels and contradictions. The music movies from an homage to Leonard Cohen to a bavarian drinking hall, from big-band zombie swing to a baroque fugue in the blink of an eye. For this album Jason is joined by some Seattle's finest musicians, including: Michael McQuilken, Jherek Bischoff, Reggie Watts and Eyvand Kang.
1. Southern Cross
2. Broken Cup
3. Quite Contrary
4. Then
5. Not Time to Go Yet
6. The Graveyard
7. Northern Lights
8. Drinking Song
9. Counterpart
10. Now
11. Goodbye Forever Once
12. Train Tracks

(C)2002 by Jason Webley.
Recorded and mixed everywhere.
With: Jherek Bischoff, Fred Hawkinson, Jon Hyde, Eyvind Kang, Olli Klomp, Gary Luke, Adam McCollum, Andrea McCrady, M.D., Michael McQuilken, Paulo Cesar Alves Pereira, Harry Pierce, Greg Powers, John Schurman, Josh Stewart and Reggie Watts.